FAQ'S
SIZING QUERIES AND DETAILS
What size frame should I ride?

How are the top tube lengths measured?
The measurements are of an effective, horizontal top tube.
We don't currently offer custom sizes on any of our frames, so far we have only had 3 customers who could not fit on one of six sizes.
What size and type of front derailleu do i need?

braze on front derailleur
What size tyres can I run?
Some of our Palace:R customers recently gave their experiences using various rim and tyre combinations on this post on our Facebook page:bit.ly/FBPalRTyreFor those of you non-Facebook users here is the original post and a few comments:Post:"Heard a little bit of the chatter about clearance when using 25mm tyres on the Palace:R, so thought would give my verdict. I run a set of Knights + GP4000s. The rim widths are 18mm internal and 28mm external and there is plenty of room. I'm 80kgs (on a good day) and ride the bike pretty hard. I am constantly in and out the saddle on climbs and I've barely noticed any rub. There's a little bit on occasion for sure but nothing major at all."Comments on post:- I'm on Hunt wide wheels (19int/24out) and considering the Palace:R.
Seen anecdotal posts on forums RE chain-stay bridge clearance issues (on wider rim widths) but it sounds like GP4000s (25c) should be OK given you're on 19.6mm internal.- My 2 penneth worth, Mavic Ksyrium Pro Exalith hoops with YKSION PRO Powerlink 25mm's. Plenty of clearance & zero rub.
- Ample clearance on my Palace:R/Fulcrum Quattro LG (17C int/23.2mm ext)/Vittoria Rubino Pro III 700x25

- DT-Swiss Di-Cut Oxic with 25mm GP4000Sii - works well.

Another customer asked this question on our Facebook page regarding tyre clearance:Q: Will a 27mm rim with a 25mm tyre fit ok on a Palace:R?A: The external width of a rim isn't a great measurement to use, as the internal width varies dependant on manufacturer, and material - carbon sidewalls can be 2mm plus thick, alloy less. Internal width gives a far better comparison on how a tyre will measure up once fitted. Two brands with 18mm internal width will likely come up a similar size, whereas two 27mm external rims can vary widely.
The Palace:R (and all Bowman Frames) come with a headset.
Once this has reached the end of its life, the following bearings will fit the headset parts and headtube
Top bearing: TH-871 ACB
Bottom bearing: ACB TH-073E
What size and type of bottom bracket do I need?
Do direct mount brakes fit the Palace:R?

No, the Palace:R frameset uses standard-drop caliper brakes.
what does the Palace:R frame weigh?
(includes carbon fork weight of 0.355kg)
What size and type of front derailleur do i need?

braze on front derailleur
What size tyres can I run?
The Pilgrims Disc is a road frame designed with bigger rubber in mind. On a modern wider set of rims with internal width upto around 20mm, the Pilgrims can comfortably take all 32c tyres, and some lightly treaded 33c tyres fit. Bigger 33c tread patterns and some tyres that measure a little bigger in real life, do not fit.
With mudguards, there are a couple of options. Using a stock 35mm mudguard you can run a 28c tyre with good clearance. A 30c tyre can be used if paired with a 45mm mudguard but a small modification needs to be made to give good clearance, it just requires 2 small cuts, we're happy to give advice on fitting this setup.
What size hubs / wheels can I fit?
The Pilgrims Disc uses bolt through axles front and rear, we supply both bolted and quick release bolt through axles with the frame. The front hub spacing is 12 x 100mm and the rear is 12 x 142mm. The Pilgrims Disc is designed to run 700c wheels but you can use 650b wheels aswell, the biggest tyre we have successfully tested is 38c with this setup.
The Pilgrims Disc (and all Bowman Frames) come with a headset. The Crown race supplied with the Pilgrims Disc is not required, we supply this headset with all of our frames but because of the integrated race on the fork the black split crown race is not needed.
What size and type of bottom bracket do I need?
Threaded BSA (English) bottom bracket
The Pilgrims Disc uses the flat mount disc brake standard. We supply with the frame caliper mounts to use either 140mm or 160mm rotors. You can also use older post mount style calipers but you will need additional flat mount to post mount brake adapters.
What size rotors can I use?

The Pilgrims Disc uses a 140mm rotor compatible, flat-mount for the disc calipers. The maximum rotor size you can use on the frames is 160mm.
What is the weight of the pilgrims disc frameset?
The Pilgrims Disc weight is within 250grams of the Palace:R. We plan to add the frame weights to the frame pages when we have enough time and stock to measure each size.
Can I purchase additional or replacement hangers?
We do not sell anything but the shown colour options for our frames. We do a small number of limited edition custom colour runs throughout the year. We recommend signing up to our Bowman Bulletin newsletter and following our social media feeds where we announce any news on these.
Can you recommend any custom painters i can work with?
We work with a great painter on our stainless steel program, who we can put you in touch with for custom painted palaces with official graphics, that will not affect your original owner warranty. Email us on info@bowman-cycles.com for more details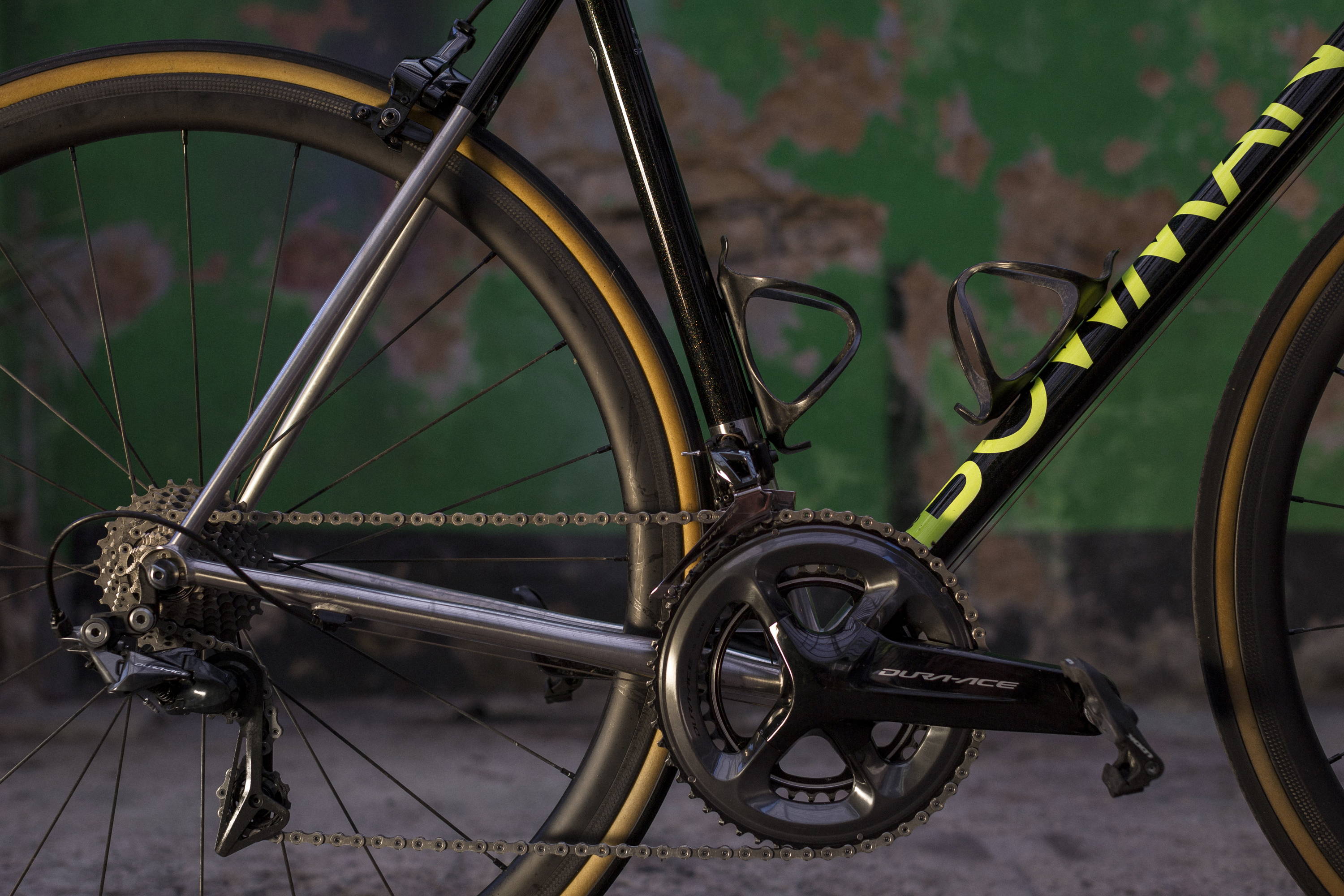 We offer a five-year warranty against material or workmanship failure for the original owner. Your statutory rights are not affected by these terms.
If you have a problem with your frame set and the issue cannot be resolved via email (email is always the fastest way of getting in touch with us, so please do try this first) and your frame needs to be returned to us, you are responsible for the shipping cost. Once we have checked the frame over and determined the cause of the problem we will inform you how it can be resolved.
If the problem is deemed to be a material or workmanship issue we will then offer either repair, or wherever possible, a replacement. We will also refund the cost you as the customer paid to have the frame returned to us. Any warranty replacement will be shipped free of charge, even for international customers.  
If you paid via PayPal and we action a refund, please allow one working day for the funds to credit your account.
If you paid for your frame using a credit card and have been informed by us that we have actioned your refund, the refund can take 3-8 working days. We have no control over this timeframe. Once we release the funds the length of time the funds take to credit your account is determined by the relationship between your bank/card company and the secure 3rd party payment gateway we use (Stripe Payments). Times may vary, so please check with your bank/credit card company first. You should be able to see that a payment in due to your account, even if it has not shown on your statement
If the problem is deemed to be a material or workmanship issue we will then offer either repair, or wherever possible, a replacement. We will also refund the cost you as the customer paid to have the frame returned to us. Any warranty replacement will be shipped free of charge, even for international customers.  
We currently only sell our frames direct via our website – this way you can ensure you get the best price.
Can I visit to see the bikes?
We have a range of demo bikes which are available to test if you are local to us - or would like to visit – at our headquarters in Brockley, South East London. We can promise great coffee (and tea is available if that's your thing). We also occasionally meet customers in Central London if you are unable to get to us.
Do I pay VAT/ Taxes on an International sale?
For International orders outside of the E.U, tax is automatically removed from your sale at the checkout based on your billing and delivery address location, you will however be liable for import tax/duty based on your own country's laws when the item reaches your country, this is usually based on a percentage of the items total value. These charges are not included in the amount you pay to us for shipping and you are responsible for taxes and any import fees. Your order will be held by your local customs office or the courier until this is paid so it may delay your order.
How much is international shipping?
We ship worldwide on all products, shipping costs are:
Free - UK
£25 - EU and Western Europe
£35 - Rest of Europe
£75 - America, Africa, Arabia
£85- Asia, Oceania, Rest of World
Customers in Malaysia and Singapore should contact our Malaysian distributor The Cyclist Wardrobe. We can't ship to these countries.
With so many options available to you, we believe the exciting process of building a Bowman you love to ride that's within your budget, with the most suitably sized components should be encouraged, not restricted. By supplying only a small range of complete bikes at certain price points with components you may end up wanting to upgrade parts almost as soon as you start riding it.
All frame orders for in stock items are shipped the following day with UPS next day service in the UK, a 2-3 day service in Europe and 4-5 day service for the rest of the world. You will receive tracking info that allows for full tracking so you'll be able to see exactly where your new pride and joy is.
On pre-ordered frames, we will give a good indication of when the next drop of frames is due, if we don't already have a confirmed date. We will also offer email updates once production dates are confirmed etc. If you're not sure when a certain frame is due in stock just ask, we'd be happy to go through availability with you.
For small parts we ship almost daily with Royal Mail, this would usually arrive with you within 48 hours
If you have any queries beyond these, or want any clarification -
email: info@bowman-cycles.com
or phone us for more details.
If you have any queries beyond these,
or just want some want any clarification -
or
phone us: 01322800146