What size tyres fit on an X?
What tyre clearance does a Y have?
Can I fit a set of these on a Z?
Questions about tyre clearance on Bowman frames are amongst the most common here at Bowman HQ. While this, in theory, should be a very simple question to answer (based on existing ISO standards of a tyre width in mm plus a 5mm 'safety zone'), the reality is somewhat more complicated.
A Weald frameset running 25c Schwalbe One on an 18.5mm internal rim width.
Away from simple theories, the real world width of a fitted tyre is affected by two varying factors:
Rim Width - the internal width between beads
Tyre carcass dimensions - the amount of fabric that makes up the tyre's body
Because of these two combining factors, a 25c tyre is rarely 25mm in width (as 25c is commonly understood to mean)
Rim Width
For a long time, road rim dimensions were stable at around 17-18mm external and 14-15mm internal. In the last few years, these numbers have grown as the science and understanding of wider tyres being faster has become an accepted norm.
External widths have risen to 23 mm and above, with internal widths coming in at 18mm plus. Pretty much every wheel brand has their own ideas on what is optimal, with some rims coming in at over 20mm internally.
Carcass Size
As if varying rim widths weren't enough, it seems that no two tyre manufacturers agree on how wide the carcass needs to be for a given size. If you laid two 25c tyres from two brands next to each other, you would expect to see up to 5-8mm difference. Some of this comes down to shape. A vulcanized tyre doesn't sit in perfect circular shape after inflation and some brands prefer a taller narrower shape. Even taking this into account, the additional carcass fabric can give a larger overall dimension in width and height.
All of this comes together in a world of uncertainty that makes it complicated for both frame manufacturers and the cyclist who simply wants to know what size tyres can fit on their bike.
A few examples
To show some examples of these differences in the real world, we grabbed a pair of callipers and quickly checked out the width of a selection of tyres and rims we had in Bowman HQ.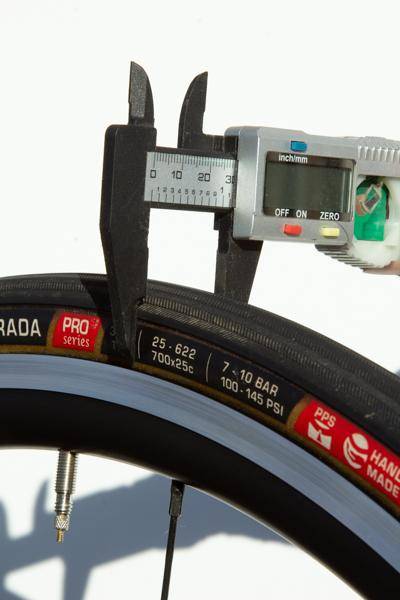 Challenge Strada 25c: 18.5mm internal rim width = 28.5mm
Challenge Roubaix 27c: 18.2mm internal rim width = 30.5mm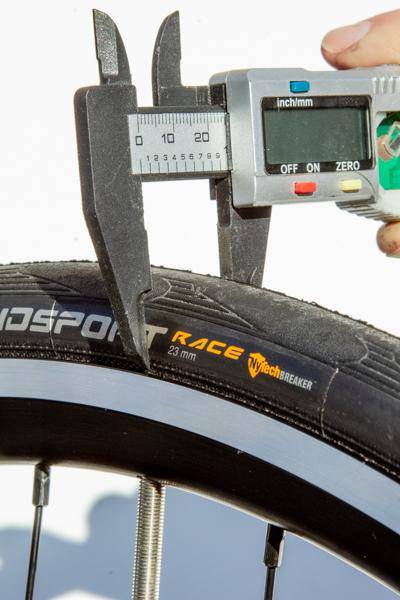 Conti Grand Sport 23c: 18.5mm internal rim width = 25mm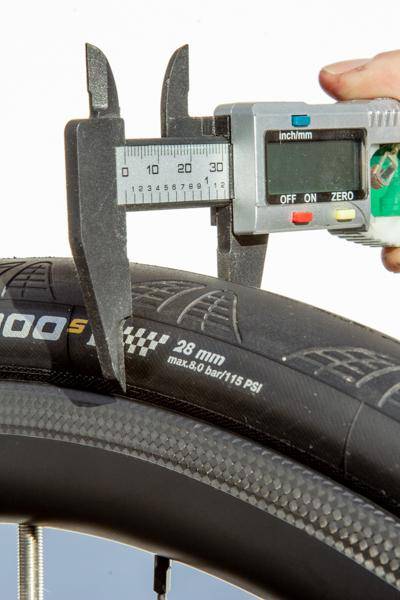 Conti GP4000s 28c: 18.3mm internal rim width = 32.8mm
Challenge Strade Bianca 30c: 19.2mm internal rim width = 32.5mm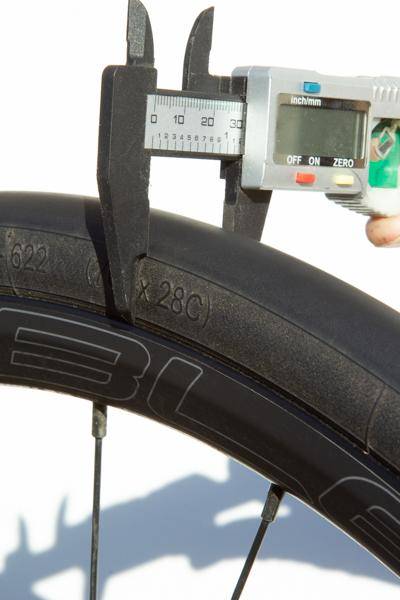 Michelin Pro4 Endurance 28c: 19.2mm internal rim width = 29mm
So, what does it all mean?
As a frame manufacturer, what we are able to do is accurately state what tyres fit into a frame from an ISO perspective, and the "frame/ tyre window" in our various frames reflects this.
For example.
A Palace:R frame has 40.7mms between the chainstays - room in ISO spec for a 25mm tyre (ISO spec for a 25c).
A Pilgrims Disc has 47.2mm between the stays - ISO spec room for at least a 32mm tyre (ISO spec for a 32c).
However…
The biggest tyre we measured in this quick, rough and ready process, was a 28mm Continental, coming up larger than a 30c Challenge, despite the latter being on a wider rim.
With 5mm of clearance around a 28c, the Continental shown actually requires a tyre window width of 42.8mm. A similar 'size' Michelin would need only a 39mm window. The outcome - a 28c tyre window from one manufacturer fits, whereas another doesn't.
To summarise, a 25c tyre is 25c only in very rare circumstances these days. One way of looking at this is that you may not need to use such large tyres to get the rolling resistance benefits of using a larger volume tyre. However, if you are committed to a specific size then we can at least make sure you know what you need to look out for when it comes to the real world dimensions you are likely to end up with.
How we can help?
While we understand that this could potentially do more to confuse than clarify, we can offer as much assistance about specifics as possible if you're interested in knowing what tyre will fit in one of our frames.
As you can see from the images, we've tried a lot of tyres and may have direct experience of your query, or at least something very similar. If not, we can advise on how other tyres from a brand typically measure up - tall, wide or both. We can also assist in explaining how to accurately measure a wheel and tyre combo - or how to ask a wheel manufacturer for assistance or accurate info.
SIGN UP TO THE
BOWMAN BULLETIN

To ensure you're first to hear about more EDIASD stories like this, and to keep abreast of news, offers and goings on at bowman HQ - Sign up here