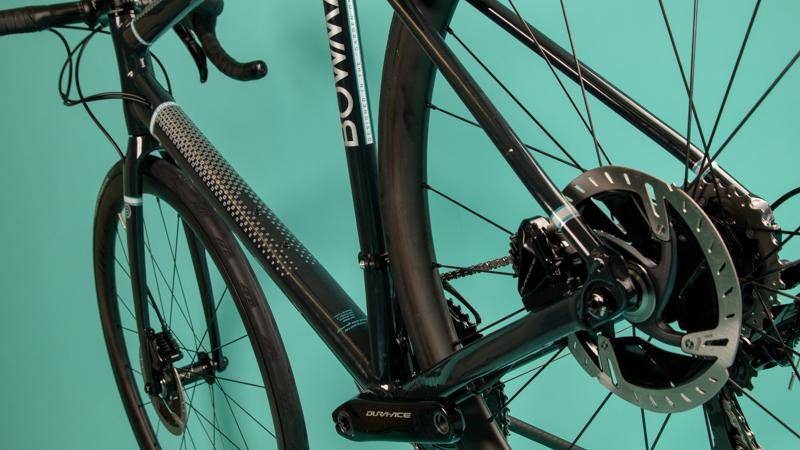 Why should I think about disc brakes on a road bike? Too complex? Too much work? Not needed? I'm not sure what to buy? Does it seem like hassle? There could be a myriad of reasons why you might not be sure. Well, let's demystify this a little bit a give you the rundown on road bikes and disc brakes.
The benefits of disc brakes from a technical perspective are hard to argue with.
Improved braking modulation,

consistent brake performance

Zero rim wear
But, how do you spec a new disc frame? Which parts are disc-specific? What's bleeding all about? We'll run through the standards for disc brakes and things to look out for when setting up.
Post mount and Flat mount
The two types of brakes you'll find on a road frame are called flat-mount and post-mount. Flat mount replaced post mount (a legacy from mountain biking, used for the first generation of road disc calipers) and all of our current disc frames use flat-mount fittings.
Flat mount calipers are much smaller and have a tidier attachment to the frame for reduced weight and improved aesthetics. The front caliper bolts directly to a (supplied) reversible mount for either 140mm or 160mm rotors and then a second set of bolts thread into holes in the fork. The rear flat-mount caliper attaches to the frame with two bolts that pass through unthreaded holes in the frame from below and thread directly into the caliper. A (supplied) wedge needs to be added for use with a rear 160mm rotor, but it's not required for a 140mm rotor.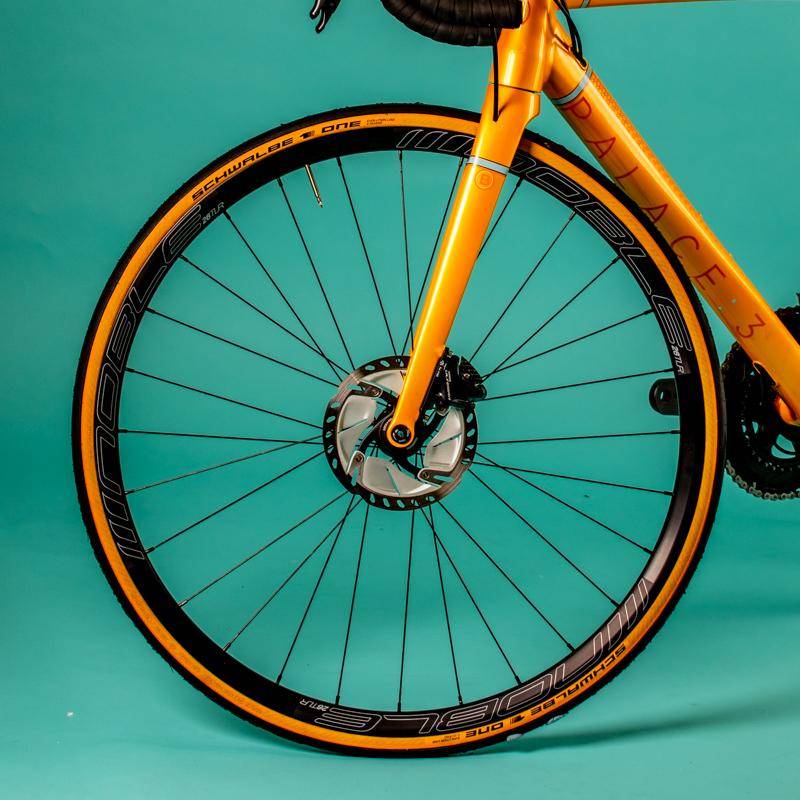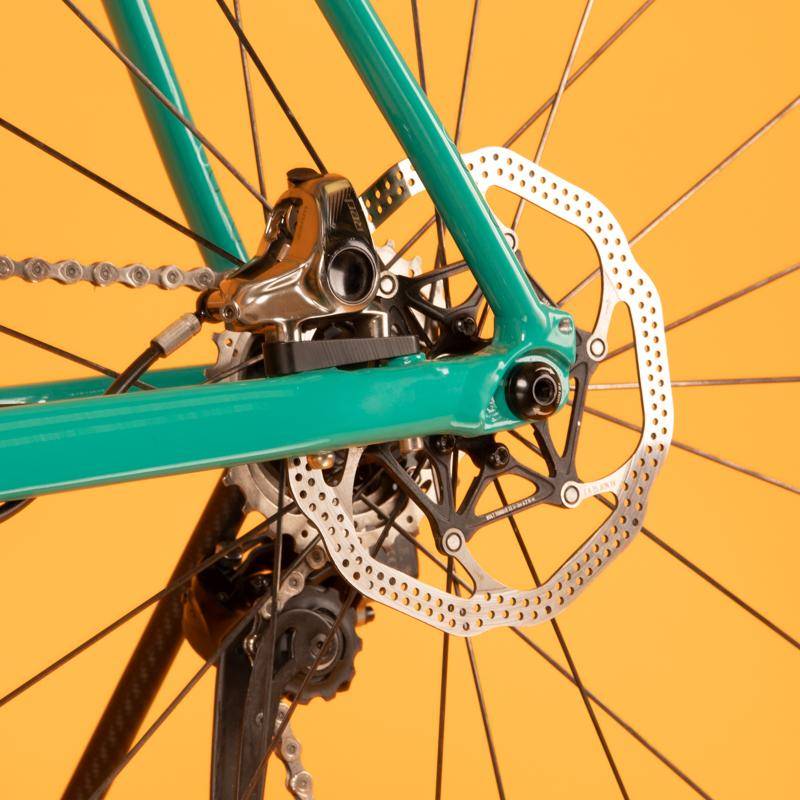 If you want to transfer an older post mount brake to a newer flat-mount frame, there are flat to post mount adapters available and these function perfectly, albeit with a smidge of added weight. 160mm rotor adapters can look a little bulky in comparison to the more modern flat-mount, but this opens up the option for switching a disc group from an older bike or to purchase older generation parts to reduce the cost of a new build.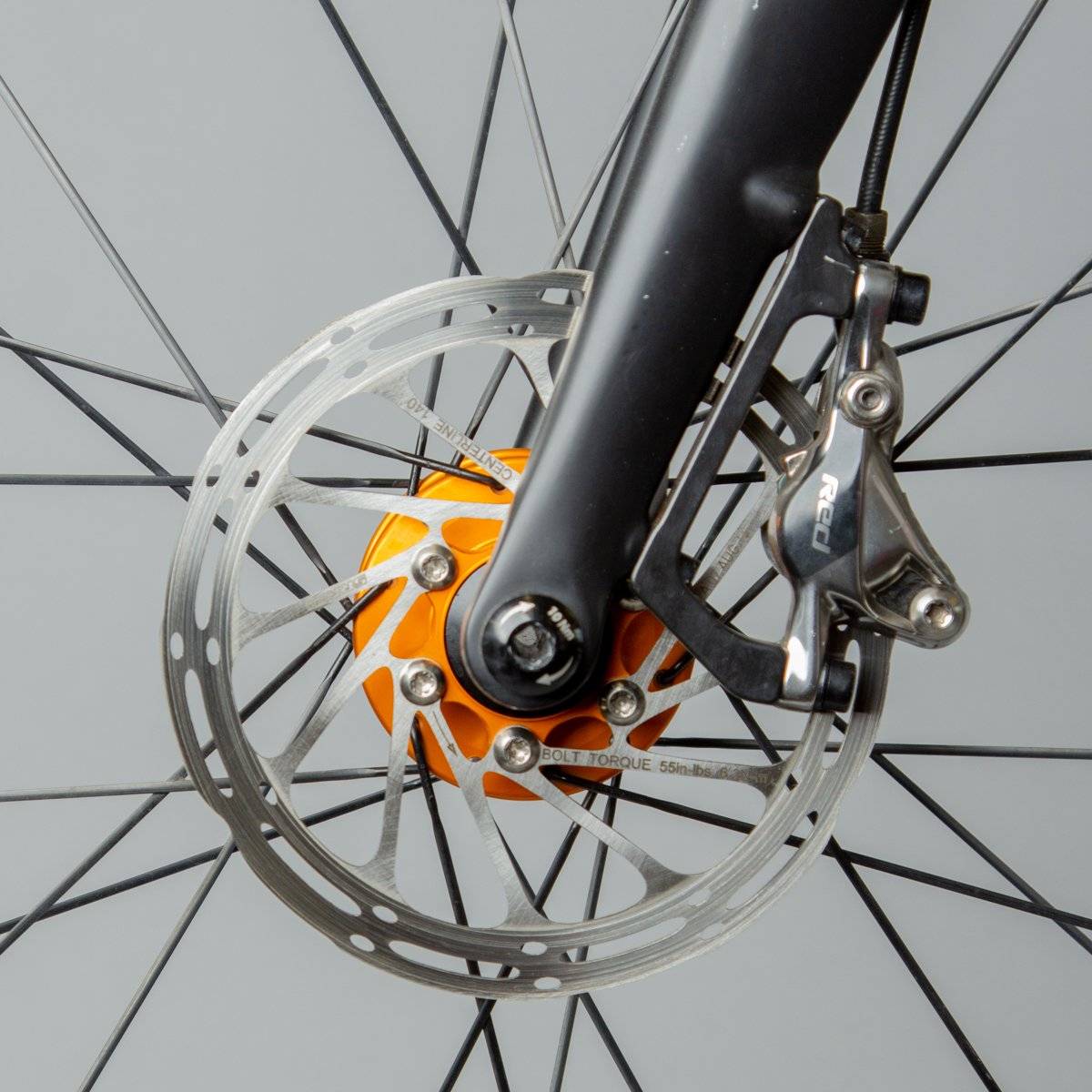 Rotors
Disc brake rotors for road use come in two sizes: 140mm and 160mm, as well as two ways to fit them to the hub, 6 bolt and centre-lock.
The decision on rotor size comes down to stopping power and heat dissipation. Essentially a bigger rider or those regularly descending big hills need more power to slow them down, so a bigger rotor is required to dissipate the heat generated during braking. The only benefits from a functional perspective of the smaller rotor is a slight weight reduction. Aesthetically, some people prefer the reduced scale - but that's a subjective decision, so we'll leave that to you.
The 2 standards of disc rotor fixing are largely dictated by your chosen hub or wheelset's availability in either type. Some brands will only make hubs for Centre-Lock or the six-bolt fixing. We would suggest choosing a wheelset and buying rotors to suit rather than the other way around. With the 6 bolt standard, the rotor attaches with six M5 bolts, and with centre-lock, the rotor sits on a splined interface held in place by a lockring.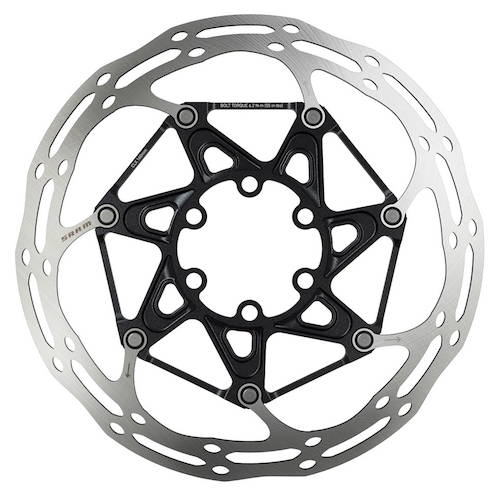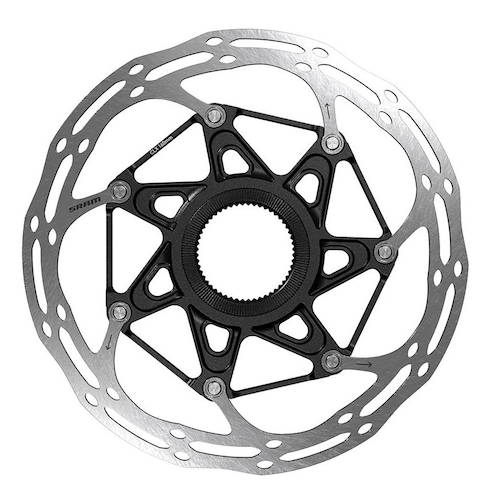 More expensive, higher spec rotors will often include fins or heat sinks to improve heat dissipation, as opposed to simply supplying a braking surface for the disc brake pads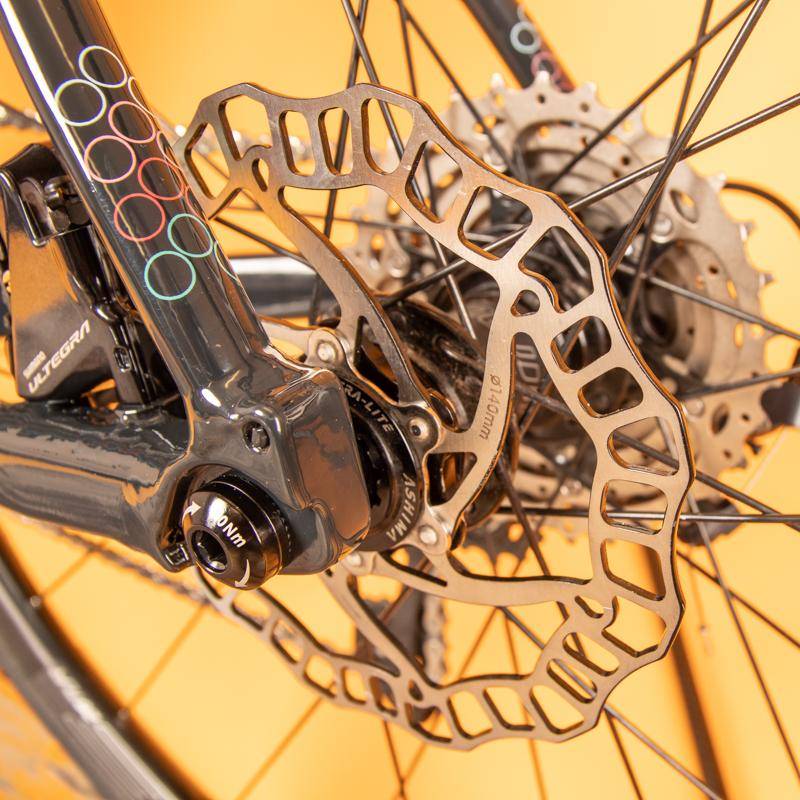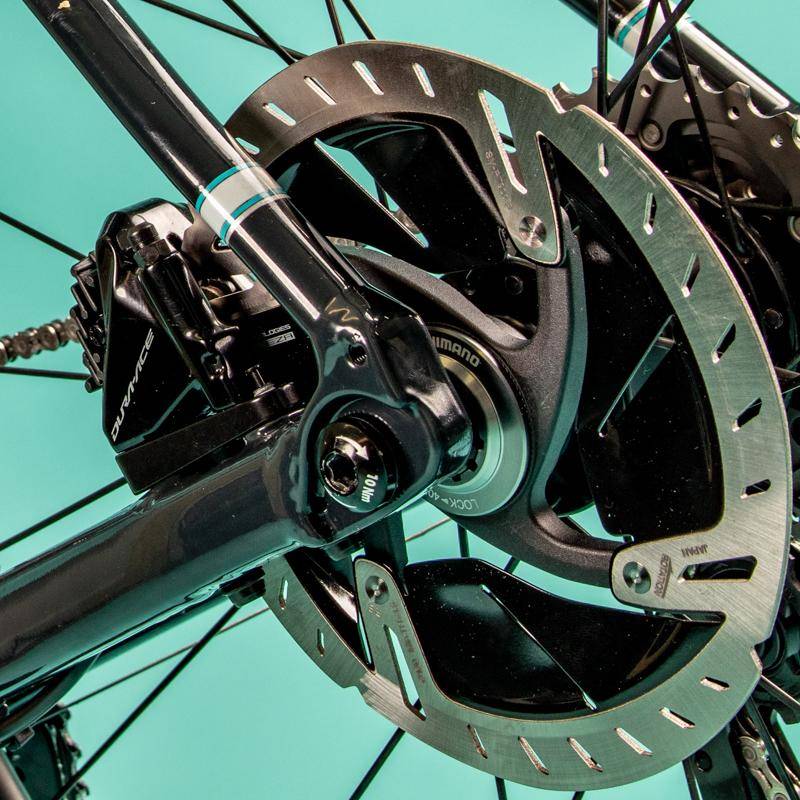 Maintenance:
When it comes to maintenance, there are two parts - regular and long term servicing. Pad swaps need to occur for disc brakes, just as they do for caliper bikes. The switch is similarly simple, and on a disc brake bike, if bedded in correctly - brake pads will generally last longer than for a rim brake.
Longer-term servicing is where the brake bleed comes into play. The bleeding seems to be a barrier to adopting disc brakes for some, but brake bleeding isn't a dark art.
What is Brake Bleeding?
A Hydraulic brake is essentially 3 pistons and a hose. When the lever piston is pressed it displaces oil through the hose which pushes the other 2 pistons at the caliper outward. If there is air anywhere in this system when the lever is pressed it just compresses this air rather than pushing the oil through the system. The aim of bleeding is to push fresh oil through the system to flush out the air, giving a nice solid feel at the lever. Bleed kits are available cheaply for the home mechanic and brake bleeds are a cheap job in most bike shops, typically you would only need to bleed them once a year.
SRAM Bleed: https://www.youtube.com/watch?v=8K4ADjuxEqc
Shimano Bleed: https://www.youtube.com/watch?v=TYhb8tGUzbs
Campagnolo Bleed: https://www.youtube.com/watch?v=WQk-pUPKOqk
To make your life easier when it comes to bleeding try to keep all hoses pointed upward (where possible) when cutting to length and never pull the lever when everything isn't connected up.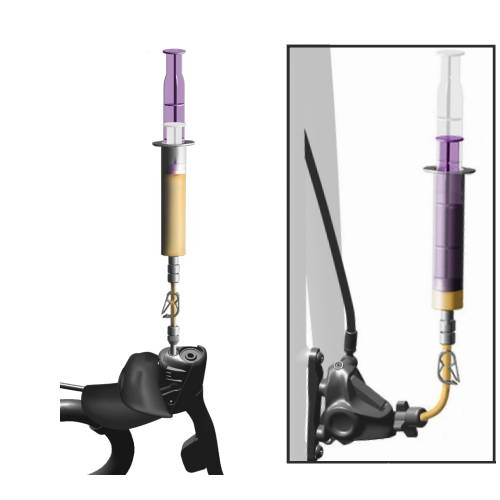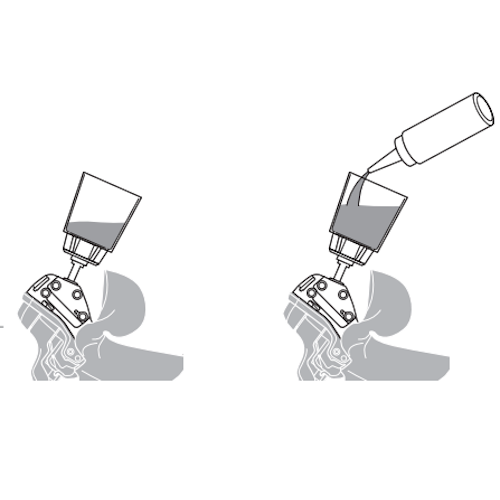 As always, if you have any questions or want to check compatibility just get in touch, we're more than happy to help.
SIGN UP TO THE
BOWMAN BULLETIN

To ensure you're first to hear about more stories like this, and to keep abreast of news, offers and goings on at bowman HQ - Sign up here